I have seen these in the blog-o-sphere for a while now and finally had a chance to make one. The original recipe came from here The Edible Prospective. Ashley has some great recipes and lives in one of my favorite places, Fort Collins (remember our trip to FoCo, Patti? It was so much fun!) But for some reason I wasn't really moved to make this until another of my favorite bloggers did, Kath Eats. Kath adapted it just a bit, and then I adapted it even more. I don't have any buckwheat (Ashley uses buckwheat to be gluten free which is not an issue for me) so I used half whole wheat pastry flour and half organic whole wheat flour. I also used a flax egg and almond milk instead of regular dairy. I also added in a handful of vegan dark chocolate chips because really, why not? And look!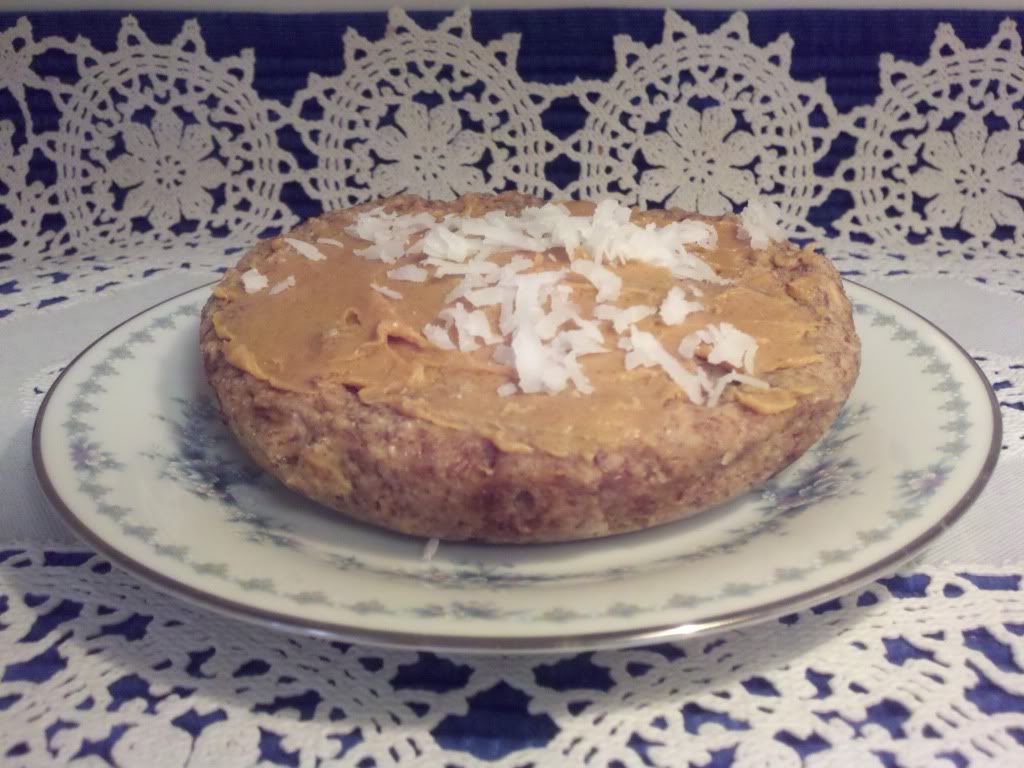 I 'frosted' it with a little Monkey Maple peanut butter and shredded coconut but you could use whatever. When I finally was motivated to make this, it was about 7:30 pm. This literally takes about 5 minutes from start to finish, thanks to microwave directions. Super easy. So I guess I made it as a dessert instead of as a breakfast item. Warning - it was really too 'heavy' to eat at night. But, the good news is that I wasn't hungry till 2:00 the next afternoon. Whoa! Since this makes 2, I warmed up the spare and had that for a late lunch. Whoops. Bad idea as I wasn't able to eat dinner til maybe 8? For most people, this staying power would be amazing but I have a pantry full of good things to eat and no appetite for them! But I really loved this Bake, it was super delicious and very adaptable and will be perfect on days I have to help with tree work, as it kept me extremely full but didn't weigh me down or sit in my stomach. Definitely a recipe to stay in the rotation! Try it today.
A shout out to my wonderful friends Jeff and Mary, who are celebrating 26 years! Happy Anniversary!